'Avalon'
Lilah Slager Rose/Jean Nagai
November 10 — December 8th
In Avalon, the sun is a black opal.
"Avalon is a space in which metaphysics and internal emotions are explored in billowy streaks of lava, salmon, sapphire, and gold.
Scattered across biomorphic and geometric forms, the cones of your eyes bend to take in a levitating constellation of color. Remember, when the universe blew up, the stars broke into pieces and landed on Avalon.
Notice the repetition, an obsessive fixation with buried patterns. Even the expansive arrangement overhead acts as the greatest portrait you've ever dreamed of or perhaps it's the perfect hallucinogen. In Avalon, you see your grandmother in the sky, your old dog, Apollo's torso, a pile of turtles.
There is no horizon, but merely soft layers covered in waves of light, achingly alive."


Husa's Garden
A solo presentation of Camilla Engstrom
H I L D E L.A. is proud to present Husa's Garden, a solo presentation of paintings and sculptures by Camilla Engstrom on Saturday, September 15, 2018. Rooted in Engstrom's mythology of "Husa," the Swedish word for house maiden, Husa's Garden invites the viewer to join our heroine through her stages of enlightenment as she zig zags through multiple dimensions reality.

"The flowers are beginning their masquerade as people." Husa begins the fun. (Walter Crane, 1899)
How do we tell you about Husa? The first thing most people would say is "she is pink." The truth though is that she comes in many forms and it really depends on her mood. She is spiritual, though some have called her petty. She loves to drink wine and cause trouble, but she also meditates a lot. She's not yet an ascended saint, but she toys with the idea. In the garden, she moves quickly and if you aren't watching she'll rile up the flora and fauna, causing some of the flowers to get horny or others to laugh hysterically. Sometimes she whispers secrets to flowers and they get very angry. She never strays from a little controversy. Husa does not believe in an ugly world and employs her relationship with Mother Earth to make everything better. When it rains and thunders, you'll find her dancing, mostly to Drake's God's Plan. The conundrum of Husa's path to enlightenment may sound familiar to you, you probably know Husa. Meet us in Husa's Garden (6-9pm) for Engstrom's exhibition and stay for Husa's dance party (9-late.)
MK ULTA
MK ULTA is an immersive exhibition of works by Gabriella Loeb and Trish Tillman opening July 7, 2018 at H I L D E L.A. Please join us for our opening on Saturday, July 7th from 6-10pm.

Note* This will be a unique viewing experience limiting the number of guests to view the exhibition at a time. Please account for this when planning your Saturday evening plans. From 6-8pm, only small groups will be admitted at a time. At 8pm we will open the doors for everyone.
(Steve Hash and Stephen Neidich)
May 12 - June 16, 2018
Our work has an excellent reputation in the community with thousands of satisfied collectors; as our goal is to be the highest value providers of global contemporary art. We strive to deliver high-quality fabrication in order to satisfy all your material and aesthetic needs. Our clean, neat and courteous sculpture has been praised by the most demanding of critics. We are fully educated and insured artists who provide work from foundation to finish. We use only top notch materials combined with top notch craftsmanship to ensure a lasting artwork for the client to enjoy for years and years. It is a fact that nothing can take the place of artwork created in a timely manner. The end result always being a great relationship with art history, lasting decades or even centuries to come.

Abraham & Sons, Inc. is LA's leading commercial exhibition by Steve Hash and Stephen Neidich. These guys boast an expansive portfolio of art objects throughout the Los Angeles area. We've got cement, marble, resin, and steel. Expect an exhibition of precision. Expect beautified proportions. Expect the utmost expertise. When you think art, think Abraham & Sons, Inc.
Aleph and the Rock
Grant Falardeau & Theodore Boyer
(01/13-02/24/2018)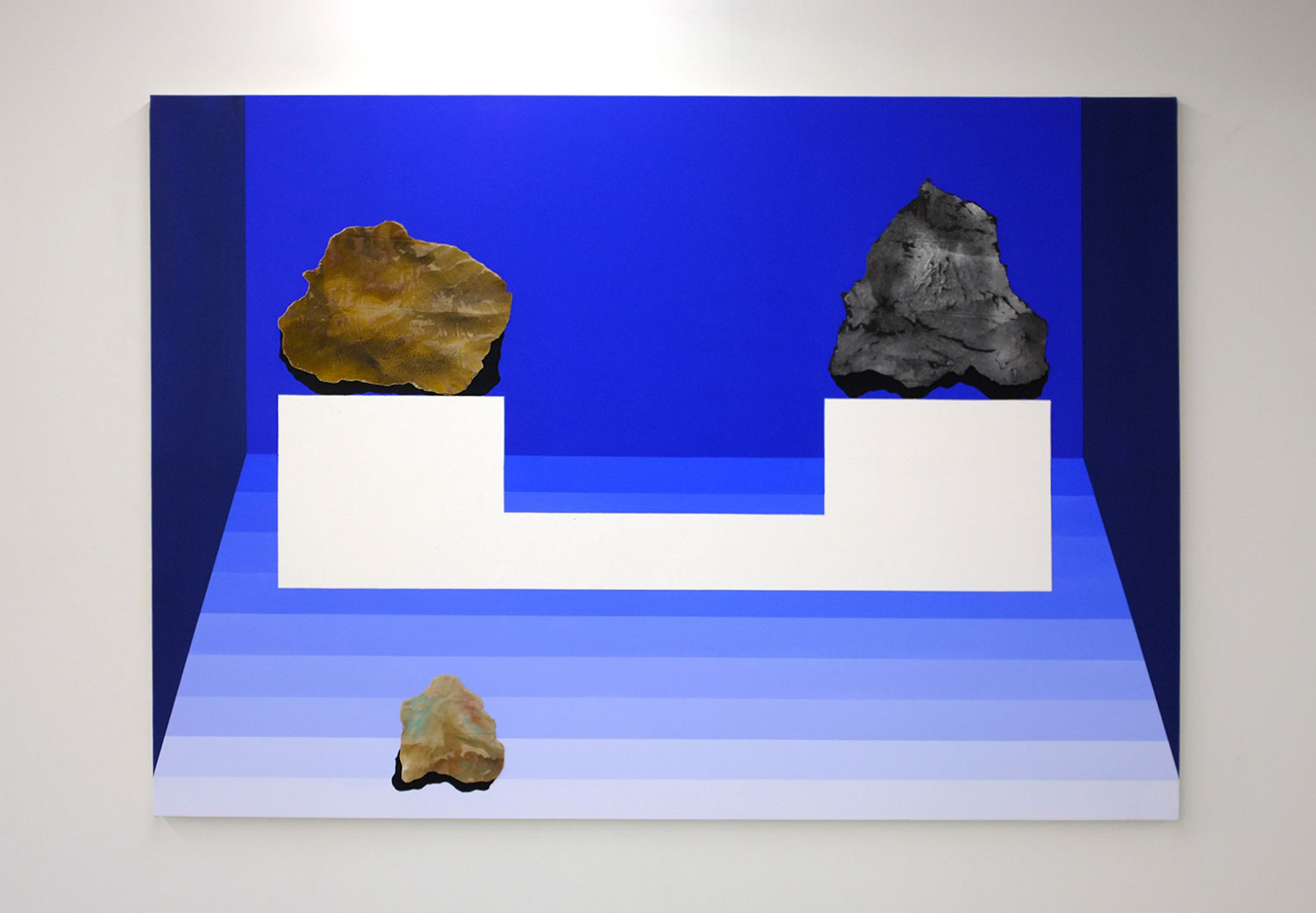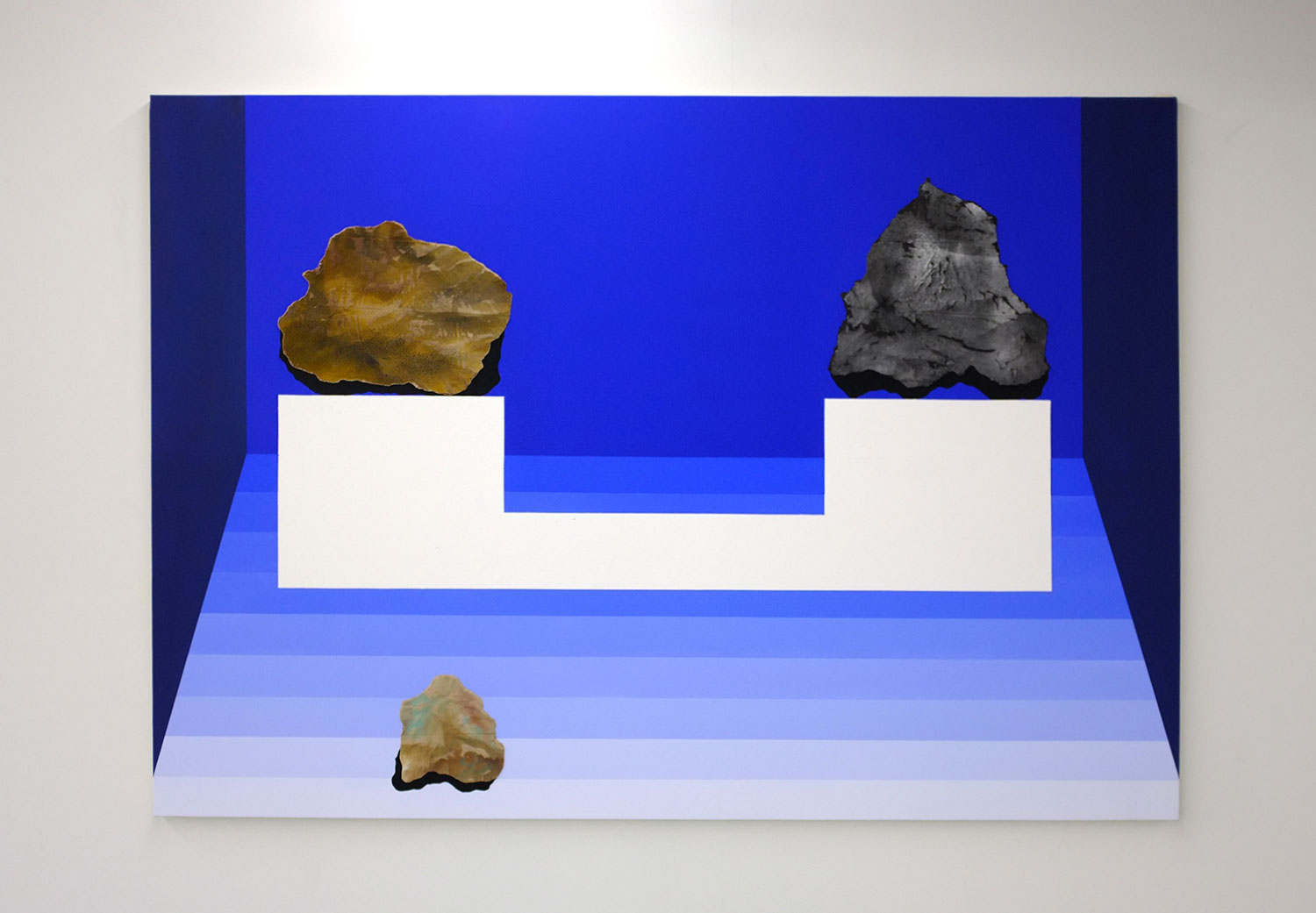 We are telling you the story quickly before you leave the rock. It'll be short and one of the last things you remember, The Human Story. There are many versions you could have been told, but this is the one you need to know. After some time, we woke up in the mud and leaves. It took a minute to stand up. Things were confusing for a while but our eyes began making shapes out of the colors, our nose could discern shit; we heard the cry of the others. When we opened the big hole in our head, a long deep wail confirmed we existed. Back then, our origins were a mystery, though now we know.
While we waited to leave the rock we worked. Giant civilizations came and went. From life until death, we augmented the rocks, boiled the metal, and trained the light. Generation after generation we built under edicts of truth, knowledge, and vision. We know now what they really meant.
In those days, we divided everything into the seen and unseen. As we expanded with the rest of the universe, we built systems to translate our experience. Not all of them worked, largely due to a long-term case of mistaken identity. However, many successful attempts led us to more than one functioning system, although we were not prepared to use the technology. The process was slow, meticulous, and often self-destructive.
The Aleph is our first and most eternal system. It is the primordial "1" which contains all letters and numbers. It sequences itself through a nebulous of synchronistic systems and communicates in every language. As you travel across the Aleph, notice how it cradles everything, tearing through the silent void.
It is time to move on now. We wish you a safe and positive journey on your departure. Please remember to leave all of your belongings behind. Welcome all Trans-Alephian Citizens.